I know I was a member here because my computer had the user name and password registered but I had to re-register to post! Maybe because I haven't been on here for a while. My partner Warwick & I are parents to six feline felons. All are desexed and micro-chipped, and we do not let them outside unconfined, they have a cattery in the garden and a netted 10m x 2m verandah. #1 is Marmaduke the Marmalade Cat - a gentle soul who we adopted when, at a year old, he was left behind when some neighbours moved as they did not want to bother having their Christmas kitten desexed. A loving and responsible cat who looks after the others like a dad. Marmie is our 'toothless tiger' as he lost all his teeth to gum diease a few years ago. I felt like the worst cat mummy in the world but the vet said some cats are just prone to it and he would be fine. And he is, he gets his food chopped extra fine and copes well. AKA Marmie, Marmalooshka, Mr Marmooley, Mr Marms and Don't scratch that couch!
#2 is Mr Raymond, a cream tabby x bred Oriental DSH. Raymond was rescued from the RSPCA and can be both a dear loved little darling and a right scoundrel, seemingly only nano-seconds apart! As his favourite way of saying 'hello" to the girls is to jump on them from behind, sometimes he is not too popular with them! AKA Raymond or Get Down from There!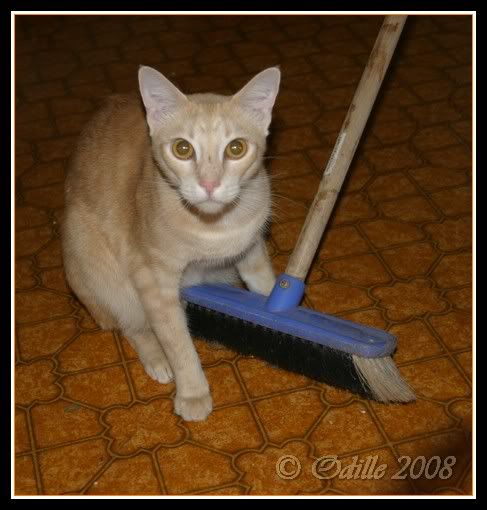 #3 is Miss Zafira, an old style 'apple head' seal point Siamese rescued from the RSPCA. She has huge adjustment problems for 9 months after we got her, with overgrooming to the point of bleeding, but is now a much loved, if somewhat aloof, member of the gang. She loves hiding and is often found lurking in the heights of the linen cupboard, very, very quietly too! AKA Miss Zaffie, Zafooples and Do NOT go in there!
#4 is Miss Honey, a modern elegant style Siamese seal point Siamese 'rescued' from an acquaintances home where she was not settled in or very happy. A very private person, Miss Honey is devoted to her 'Mum' and spends most of her time under the doona if I am not around. SHe loves baby cuddles though. We have instigated a Get Honey back into Circulation' program and I am happy to report it has been extremely successful, she now comes out for all of the day and actually lays on the couch with Raymond & marmie. Six months ago it would have been unthinkable! She is terrified of Yoda though. AKA Honey Bunny, Princess and the kissy noise (made by pursing the lips up!)
#5 is Miss Tinkerbelle, a DSH blue bilcolour. Warwick rescued her from his work, where she regularly greeted him in the car park at his very early start time of 2am, and was surviving, it seems, on grasshoppers and scraps from the bin. She was desexed and microchipped but it had not been registered. As she is a feisty small soul, and is, unfortunately, FIV positive, we took a long time introducing her to the community. While she is a bit of a loner, she is happily integrated and we have never seen any sign of biting behaviour (the only way the potentially fatal FIV can be passed from one cat to another). AKA Miss Tinkerbelly, Tinks, Tinkles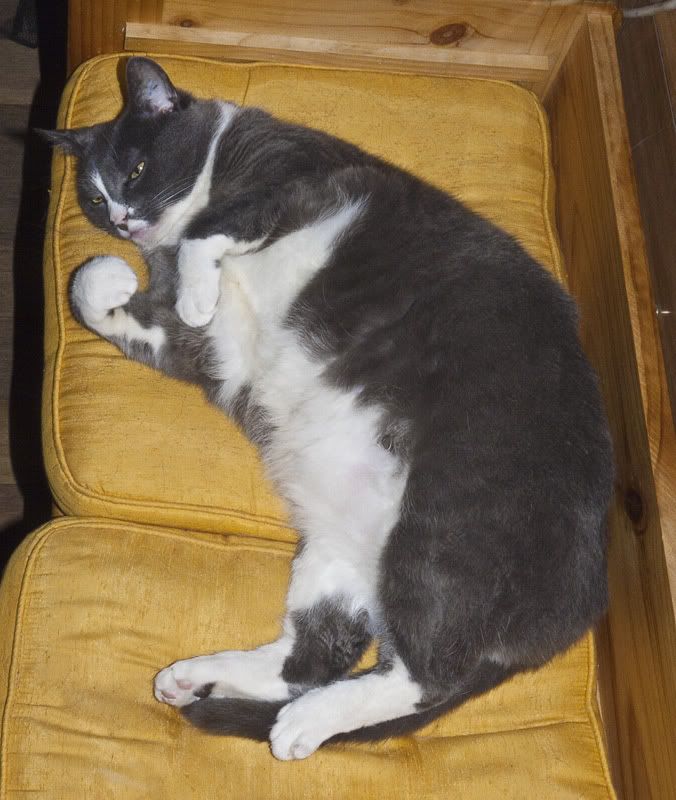 #6 is Master Yoda the cream tabby Cornish Rex. A small and silky coated boy who lives up to the Cornie nickname of velcro cat - he's always stuck on someone! MY was destined to be kept by his breeder but personal reasons forced her to find a new home for him when he was 11 months old. After some deliberation I drove the 2000km round trip to Wollongong to collect him and he has fitted in well, except that Honey thinks he is a dervish and Zafira hates him with a passion, unfortunately. AKA Yoda, and DO NOT do that!, NO!